This Summer School is intended to share highlights and current developments as well as in depth expert knowledge on selected topics in the field of clean energy and sustainability. At the same time, we aim to bring together young researchers from different domains in an interdisciplinary approach, to discuss strategies and develop ideas for solutions towards a more sustainable future.
In order to achieve this, the Summer School is based on three main elements:
Plenary talks will be given by distinguished speakers from AUTh and KIT to present highlights, the current status and future developments in the fields of circular economy, climate change and energy transition to all participants.
Streams are the second element of this Summer School. These thematic courses are dedicated to different research fields and run in smaller groups throughout the week. Participants can choose out of four different streams. The lectures of each stream provide technical background as well as latest research results in the respective field. Various scientific experts from AUTh and KIT will give these lectures.
An interdisciplinary project will involve all participants across the disciplines. Lecturers and moderators from KIT and AUTh will introduce the task and assist you throughout the project and in preparation of a final presentation.

Program Overview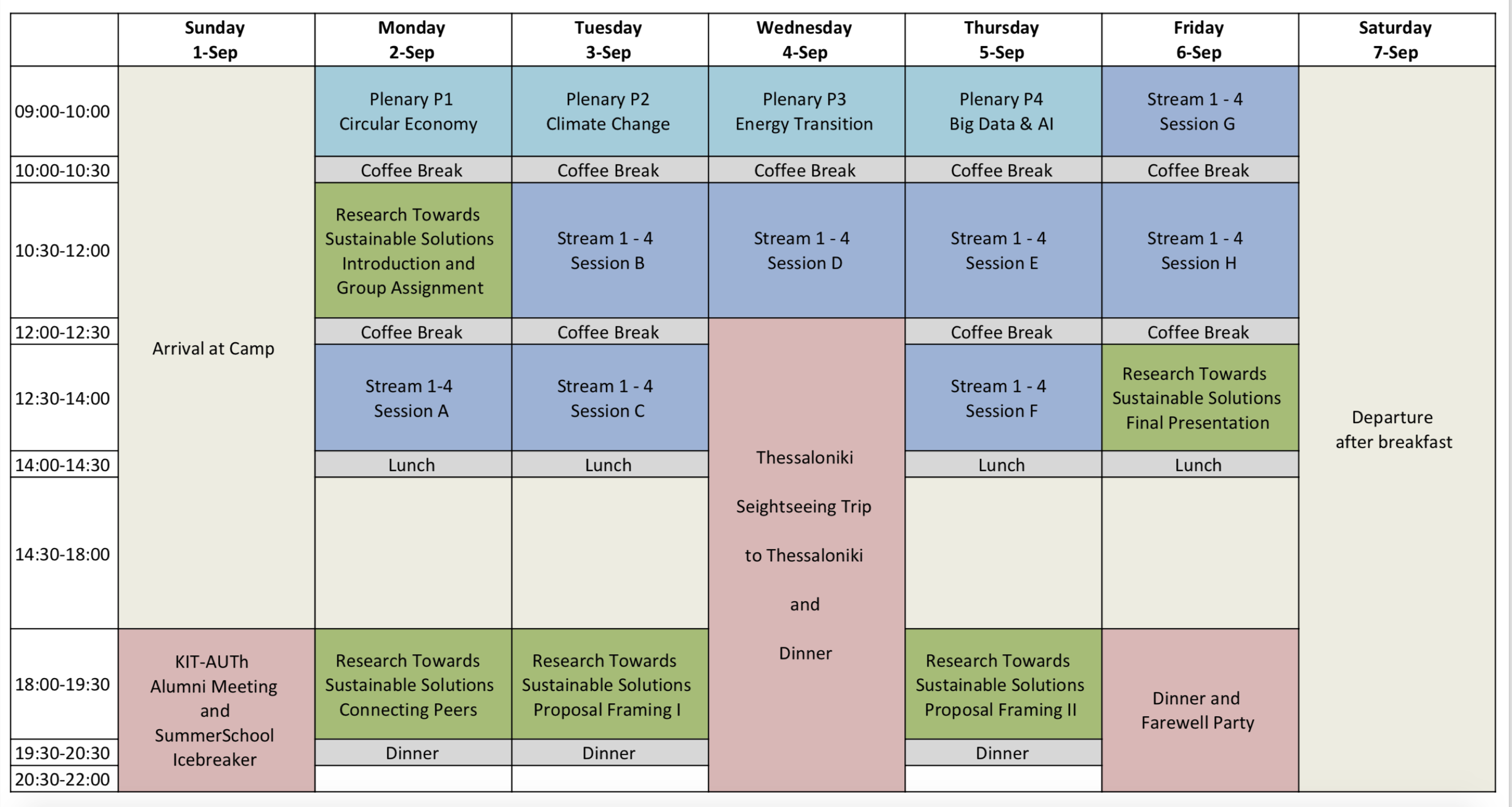 Plenary Talks: P1-P4, Mon-Thur, 09:00-10:00
P1: Circular Economy, J. Sauer (KIT) and A. Lemonidou (AUTh)

P2: Climate Change, J. Orphal (KIT) and N. Moussiopoulos (AUTh)

P3: Energy Transition, K.-F. Ziegahn (KIT) and L. Ntziachristos (AUTh)

P4: Big Data, AI and Remote Sensing, S. Hinz (KIT) and D. Tsoulis (AUTh)
Streams: S1-4, 8 Sessions (A-H)
Interdisciplinary Project: 5 Sessions in project groups